Changes, February 2015
This is the first update to the site, which began on-line in late 2012. Previous visitors (both of you…) will note that the 'New' menu heading takes you to the most recent update, which will have a link to previous updates in its second paragraph. All photos, except for the dinos, are by Pat.
London & Lisbon
In early Summer of 2013 we returned to London to enjoy old haunts, and then proceeded to a new land for us, Portugal. The highlight of London was a spectacular exhibit on Ice Age Art at the British Museum (somewhat tempered by the fact that many of the Medieval galleries were closed). We also went to a performance at the Globe, and took pictures of The Shard and The Gherkin. We finally made it out to Down House, Charles Darwin's home for most of his adult life. A worthwhile pilgrimage.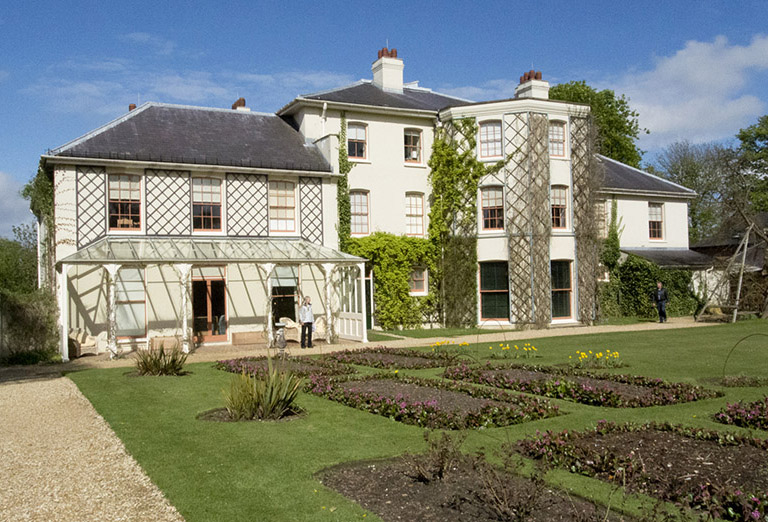 Down House
An hour or so from London, Darwin's hideaway has been restored, and contains a great deal of information about Charles Darwin and science in the nineteenth century.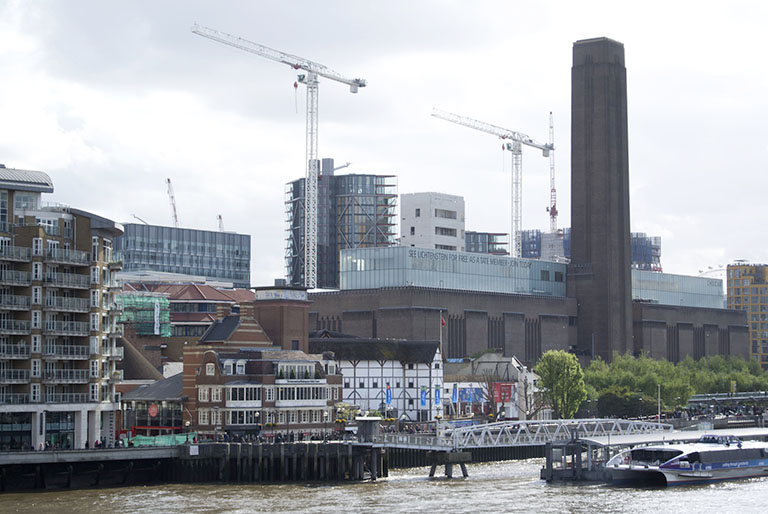 Globe Theatre
Dwarfed by the Tate Modern art gallery, and soon to be all-but-hidden by ridiculous high-rise developments, the Globe remains the London place to visit for Shakespeare lovers.
The Gherkin
One of the new ultra-modern buildings further destroying the London skyline, 30 St Mary Axe is, in itself, a very striking and attractive building (Norman Foster and the Arup Group), opening in 2004. One of its better features is the ability to change its apparent color, depending upon sunshine and atmospheric conditions – it usually looks more blue than this.
The Shard
Not to be outdone by The Gherkin, Renzo Piano came up with this less interesting, but even taller building (1000 feet versus 600 feet), opening in 2012. Viewed from Southwark Bridge.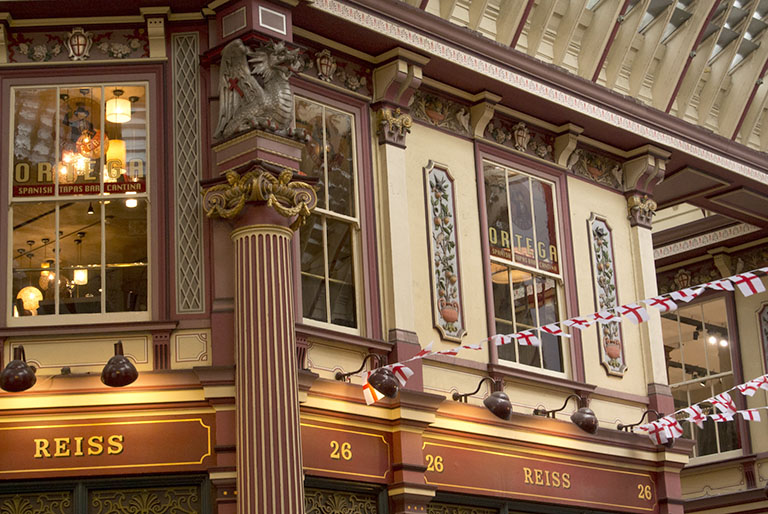 Leadenhall Market
The former Leadenhall meat market has been yuppified and cleaned up, and changed to a fresh foods market, with a few other boutique shops. A market has been here since the fourteenth century, and most of the current building was designed in 1881 by Horace Jones, who seems to have specialised in markets.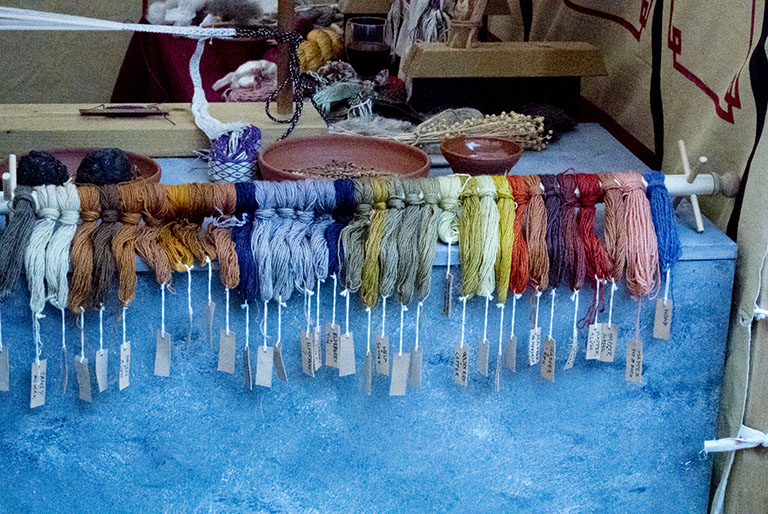 Roman dye examples
The British Museum was having a Roman day, and a weaver had this beautiful display of yarn made with natural plant extract dyes. I had not realised that the colours could be so strong.
We cannot very well go to England without a visit to a castle, so we took a train south to Portchester. A fine castle, within a Roman fort (Portus Adurni), on the seashore. See the Castles page (England) for some photos.
Lisbon was a financial relief from London; we were in a much better hotel (the newly-opened Olissippo Saldanha) at half the price, and pretty much everything was considerably less expensive.
The castle from Rossio
Seen from the city below, the Castelo de São Jorge is an impressive fortification indeed. Largely destroyed by the famous Lisbon earthquake of 1755, it was reconstructed in the 1930s, so what is on view today is somewhat hypothetical. But it does convey the feeling of a medieval castle, especially the concentrated hive of activity within the walls.
Rossio plaza
Plazas in central Lisbon tend to be paved rather than grassed, and Rossio has this attractive wave pattern at its center. Mid-19th Century!
Steep street near the castle
The Castle walls provide superb views over the city, both near and far.
Rooftops
Another view from the castle, showing the red tile roofs typical of Mediterranean-region cities. If you look at the bridge in the distance, just to the left of the leftmost tower, is…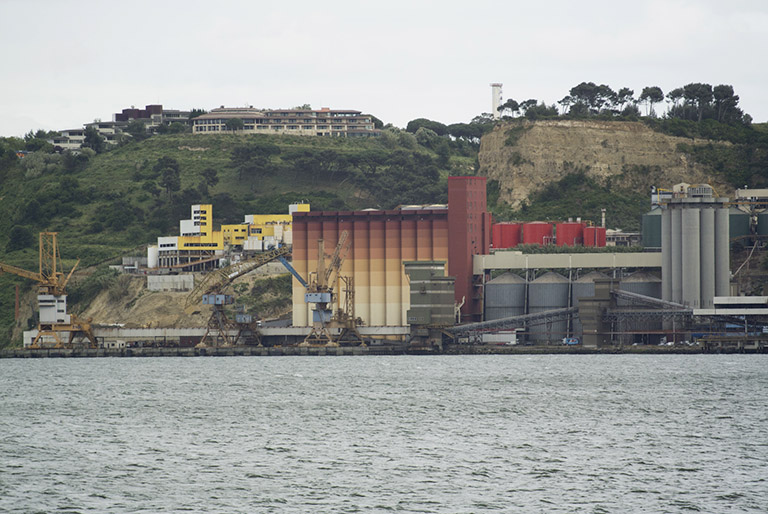 Industry on the Tagus River
The mouth of the Tagus swells to several kilometers in width just before Lisbon, then narrows to 1 km at Belem as it enters the sea. This photo looks across the river from near the Museum of Antique Art, at some unknown industrial activity.
Archaeology at the Sé
Lisbon Cathedral has suffered at the hands of earthquakes over the centuries, and today is a conglomeration of construction, reconstruction and repair. And underneath it are the ruins of what may have been a Phoenician trading center.
Cloister walls
The cloister has several arches and pierced windows which may (or may not) be medieval.
Gulbenkian Museum gardens
A major museum, if a bit on the small side, the Gulbenkian is well worth a visit. It has a large collection of Lalique works, many of which Calouste Gulbenkian purchased directly from Lalique.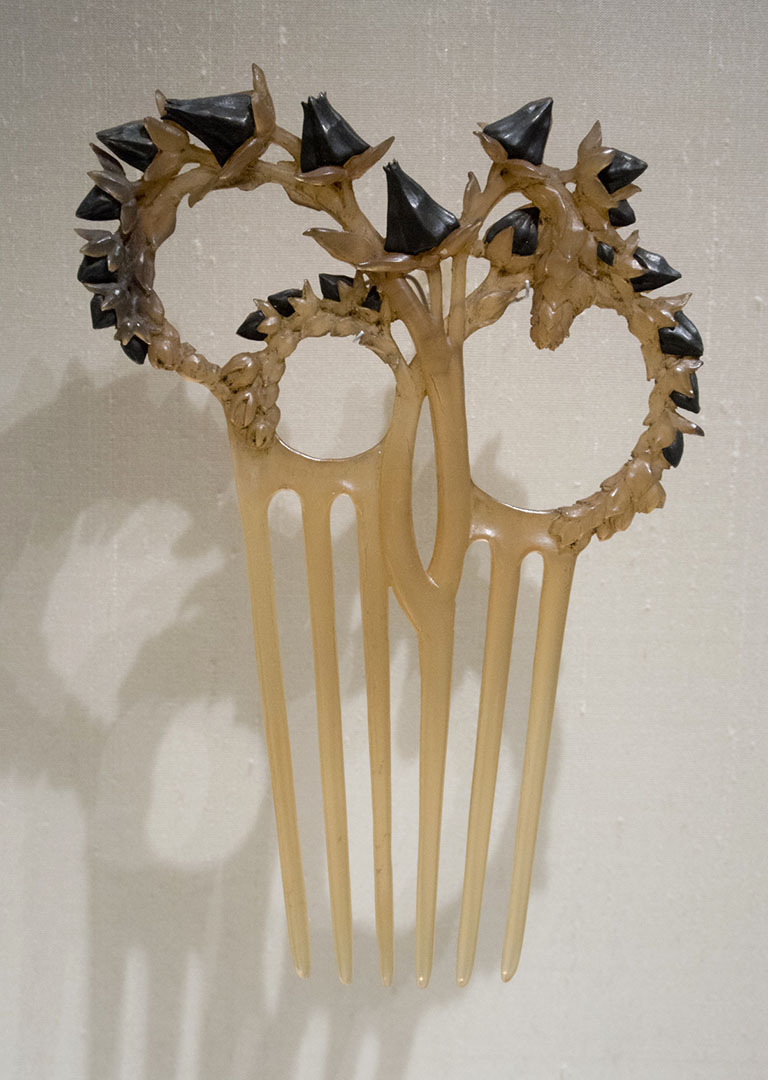 Lalique comb
René Lalique bridges the Art Nouveau and Art Deco styles. Unlike some craftsmen, he unabashedly aimed his jewelry and glass work at the rich, without any pretense of beautifying the lives of the 'common man'.
Japanese lacquer box
The Gulbenkian has a good collection of non-European crafts, including several Japanese items.
Monument to Exploration
Near the Tower of Belem, this large sculpture and building celebrates the glorious past of Portuguese exploration of the world.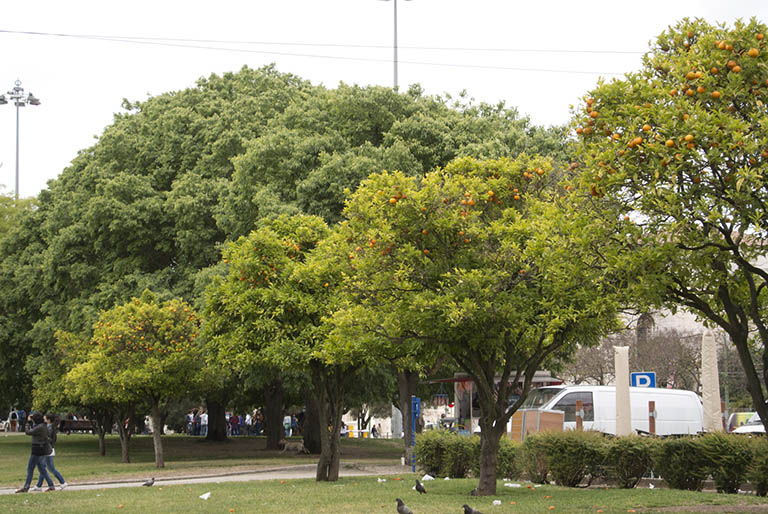 Orange trees in a park
One does not see this even in San Diego: a Belem park whose pathways are lined with orange trees.
Belem Tower
This 15th- and 16th-century tower was built to guard the sea entrance to Lisbon's excellent harbor.
Northern Arizona
In the Spring of 2014 I visited my brother in Arizona; in addition to catching up with him and his family, he was kind enough to drive me around the region, which is chock-full of photographic opportunities. For examples of my efforts, see the Arizona photos page.
And in Toronto…
It used to be that most people knew pretty much nothing about Toronto. Nowadays, the word is paired with Rob Ford, often as "Toronto's crack-smoking mayor, Rob Ford". While providing lots of material for comedians, Ford's escapades are causing real damage to Toronto. Municipal elections were held in the Fall of 2014 (after 10 months of campaigning!), but he had to drop out of the race a few weeks before election day, due to ill health. He was replaced by his brother Doug at the last moment. In spite of the fact that Doug did not actually state much of a platform (other than repeating the Ford mantra 'subways, subways, subways' without any suggestions for how to pay for them) he still garnered enough votes for second place (coming in substantially ahead of a far better-qualified opponent, Olivia Chow). Although Rob passed away in mid-2016, one suspects that the Ford clown act will be around for quite a while. [update 2018: Doug Ford is now the leader of the provincial Conservatives, and could very well end up being the head of the provincial government (the Premier of Ontario) in elections coming up in a few weeks. Still has no platform, but that apparently does not matter to a lot of people.]
Dinosaurs of the Southern Hemisphere
In 2013 the Royal Ontario Museum (ROM) put on a major exhibition of southern dinosaurs, entitled "Ultimate Dinosaurs: Giants from Gondwana", which included several I had never seen in person before.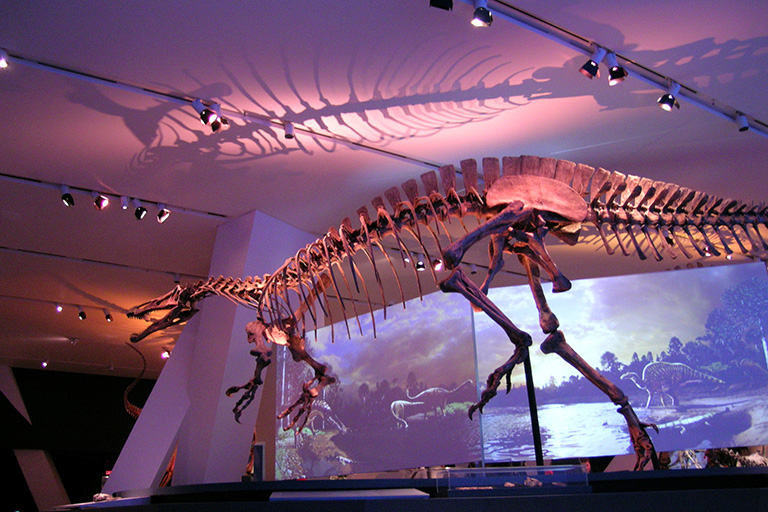 Suchomimus
For reasons best understod by themselves, the ROM exhibit featured moody, dramatic lighting, which made photography difficult. This is 'crocodile mimic', so-named because of its skull shape.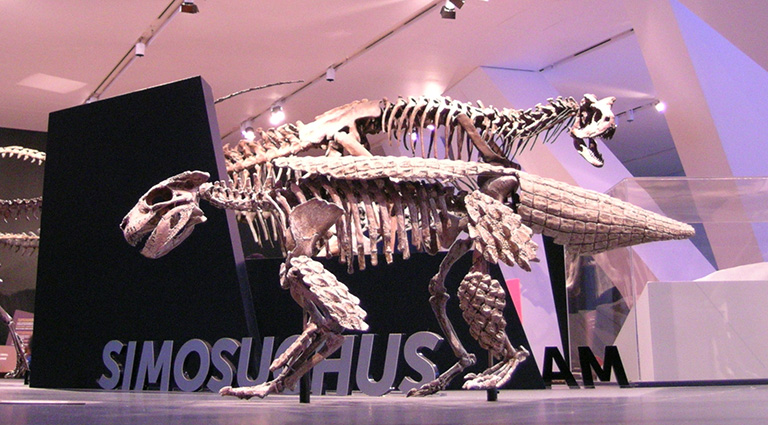 Not a Dino
The bizarre Simosuchus is not a dinosaur, but it is suitably strange to be worth including here. From the Late Cretaceous of Madagascar, it is the size of a medium dog, with excellent armour-plating. In the background is Carnotaurus, the uniquely-horned theropod.
Early Renaissance in Florence
Although the Art Gallery of Ontario's main collections focus on recent art and are of little interest to us, special exhibits can be of great interest, including 2013's Revealing the Early Renaissance: Stories and Secrets in Florentine Art. Beautifully mounted, and including items which rarely leave their home museums, this was an outstanding oportunity to view works from a fascinating period in art.
The Great Ice Storm of 2013
In December, Toronto experienced a severe storm, in which the heavy rain quickly froze in the unusually low temperatures. Trees, power and telephone lines, and the landscape in general were coated with heavy ice. Power outages swept the city; we were out for only two days (which is about the limit for remaining 'fun'), but some areas suffered for a week or more. Vast numbers of mature trees lost major branches, and smaller plants were damaged extensively – in the spring, our species roses had to be severely cut back, as the lovely winter view of the plants bending gracefully under the weight of ice turned to the realisation that they had been badly injured. The full extent of the damage to the city did not become clear until spring, when we saw not only scars where branches had been torn off, but also many dead branches which did not leaf out.